The Mortgage Bankers Association (MBA) Builder Application Survey (BAS) data for February 2023 shows mortgage applications for new home purchases increased just 1.2% compared from a year ago. Compared to January 2023, applications increased by 4%. This change does not include any adjustment for typical seasonal patterns.
"Applications for purchase new home sales were up in February and from the same time a year ago," said Joel Kan, MBA's VP and Deputy Chief Economist. "The uptick in new home purchase applications showed a seasonal pick up, and that segment of the market continues to show healthier activity than the broader purchase market, which is still showing annual declines of over 30%. Homebuyers, however, remain extremely sensitive to movements in mortgage rates and the broader economy. Mortgage rates picked up in February, which put a damper on housing activity."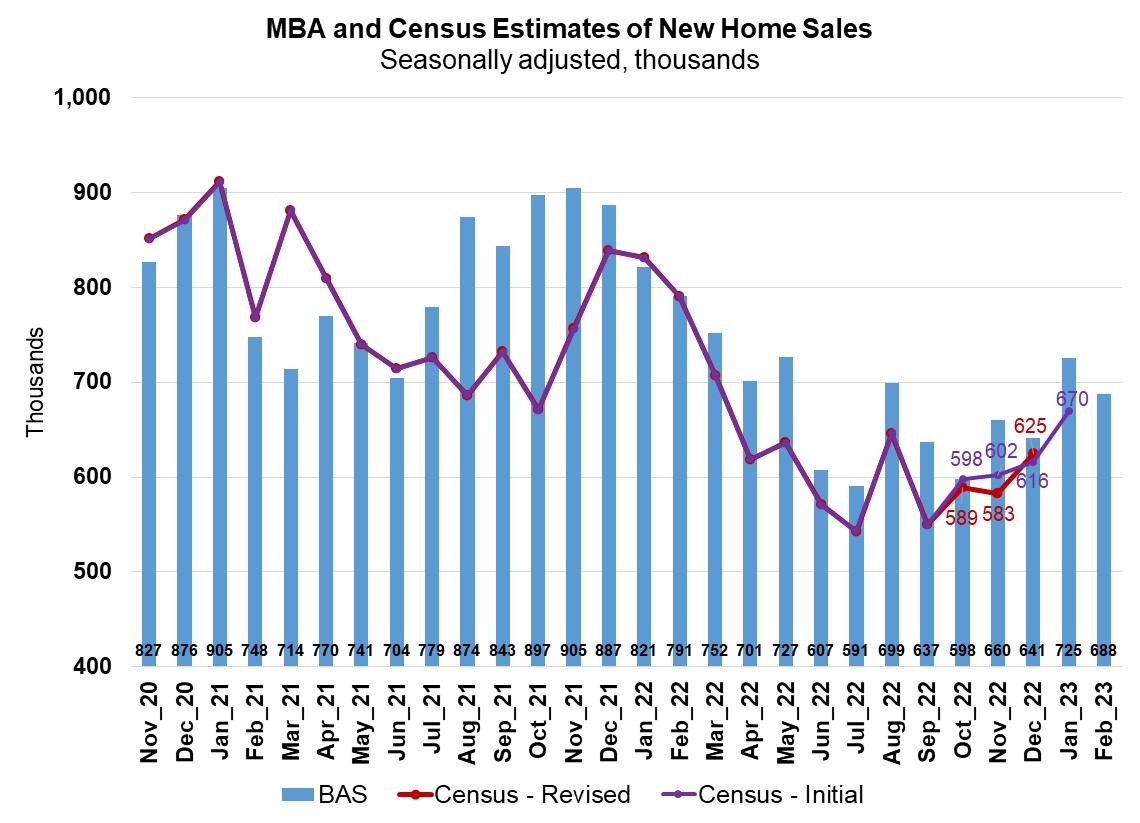 Added Kan, "The 5% drop in the estimated new home sales pace for February to 688,000 units reversed a January gain when buyers had a brief respite from rising mortgage rates, combined with discounts and concessions from sellers. The decline in new home sales is likely less than that for existing home sales as home builders are motivated to sell homes in their construction pipeline."
MBA estimates new single-family home sales, which has consistently been a leading indicator of the U.S. Census Bureau's New Residential Sales report, is that new single-family home sales were running at a seasonally adjusted annual rate of 688,000 units in February 2023, based on data from the BAS. The new home sales estimate is derived using mortgage application information from the BAS, as well as assumptions regarding market coverage and other factors.
The seasonally adjusted estimate for February is a decrease of 5.1% from the January pace of 725,000 units. On an unadjusted basis, MBA estimates that there were 61,000 new home sales in February 2023, a decrease of 3.2% from 63,000 new home sales in January.
By product type, conventional loans composed 69.9% of loan applications, FHA loans composed 20.0%, RHS/USDA loans composed 0.3% and VA loans composed 9.8%. The average loan size of new homes increased from $401,631 in January to $406,953 in February.
For more information on MBA's Builder Application Survey, click here.