According to Harvard's Joint Center for Housing Studies, after more than a decade of continuous growth, annual spending on improvements and repairs to owner-occupied homes is expected to decline by early next year.
According to their latest Leading Indicator of Remodeling Activity (LIRA), the report projects that year-over-year expenditures for homeowner improvements and maintenance will post a modest decline of 2.8% through Q1 of 2024.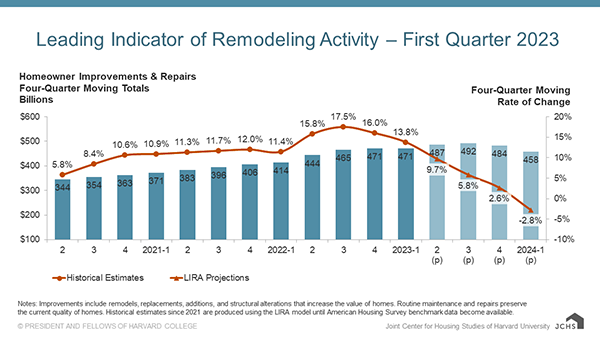 Higher interest rates and sharp downturns in homebuilding and existing home sales are driving expert projections for sluggish remodeling activity next year. With ongoing uncertainty in financial markets and the threat of a recession, homeowners are increasingly likely to reduce or delay projects beyond necessary replacements and repairs.
Homeowner improvement and maintenance spending is expected to top out at $458 billion in the coming year, compared with market spending of $471 billion over the past four quarters.
Meanwhile, strong and steady growth in the number of homes permitted for remodeling projects, as well as a slew of federal incentives for energy-efficiency retrofits may buoy remodeling expenditure from steeper declines.
The bars in the LIRA chart represent aggregate spending levels in that quarter plus what was spent in the prior three quarters (i.e. the value of the bar for 2021-1 is the accumulated spending that occurred during 2020-Q2, 2020-Q3, 2020-Q4 and 2021-Q1). In this way, Q4 bars in the chart represent the amount of spending during that calendar year.
To read the full report, including more data, charts and methodology, click here.